No.337 Shaoxing Road,HangZhou,China

Kn95 disposable dust mask
Item No: DFM501
Unit Price:
Brand Name: DDSAFETY
Minimum Order:
[[[[[[[[[[[[[[[[[[[[[[[[[[[[[[[[[[[[[[[[[[[[[[[[产品参数, 参数]]]]]]]]]]]]]]]]]]]]]]]]]]]]]]]]]]]]]]]]]]]]]]]]
Description:KN95 disposable foldable non woven protective face mask
Standard:GB2626- 2006
Material:filter sponge +non woven fabric+ meltblown cloth+soft
skincare nonwoven,protection filtering > 95%
HS Code:6307900000
Shelf Life:3 Years
5 ply (100% new material) 60g/㎡ spunbond PP+ 25g/㎡ meltblown PP (filter) + 50g/㎡ Heat-sealed cotton+ 40g/㎡ spunbond PP+ Aluminum nose clip+(100% new material) 60g/㎡ spunbond PP
Instruction :
1.This product is non-sterlized and disposable .Please unpack it when use and destroy it after using.
2.It is prohibited to use when the package is broken or it is beyond the expired date.
3.It is recommended to replace it every 2-4hours.
4.It is forbidden to use for those who are allergic to non-woven fabric.Use with caution for people with abnormal heart and lung function.
5.Keep out of reach of infants.
Tips:
1.If it feels loose ,please tie a knot on the ear loops
2.The applicable temperatures 5 -50C relative humidity < 80%
3.Store in the clean,cool,dry,well-ventilated place.
Application :
1. Disposable, single-use, breathable, light and environment friendly;
2. High elasticity ear loop help fit dfferent users and dual point attachment helps provide asecure seal;
3. Adjustable nose clip for extra comfort;
4. At least 95% filtration efficiency against certain non-oil particles. Non- Medical Grade.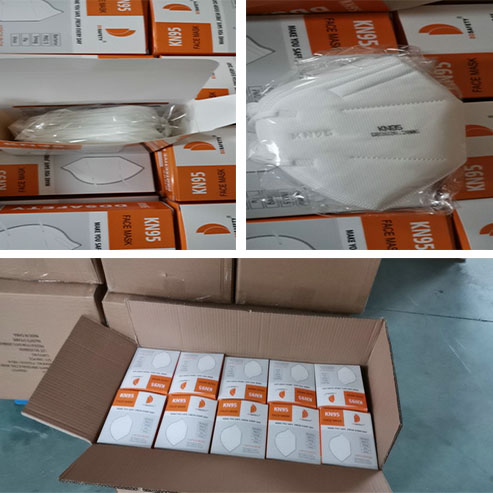 | | |
| --- | --- |
| Package Modes | Cartons Size |
| 10 pcs/box, 100 box/carton, 1000 pcs/carton | 68*34*49cm 6.3/10kgs |
| 10 pcs/polybag,1000 pcs/carton | 68*34*49cm 6/10kgs |
You can always contact us via email or phone.Get in touch with us today!

Address:NO.337 SHAOXING ROAD,HANGZHOU,CHINA








If you have any comments or suggestions, please contact us.